You'll Love Our Lucets!!!
We have been making and using the Lucet since 1985. They come packaged with thread and instructions. I have written a book that is filled with information on the history and technique of making different types of cording, uses for the finished cord and different types of thread to use on the Lucet. We make a quality wood Lucet that has a silken finish.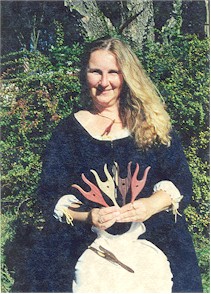 I began using the Lucet back in 1983 when I was re-enacting and needed a time period 1750 or earlier needlework weaving tool, to take with me. I needed something portable and the Lucet was period correct and easy to learn. The resulting finished cord comes in handy for many uses during Medieval, Colonial and Modern times. Before the advent of buttons, hook 'n' eyes, and zippers, cording was the only way to keep clothing on the body and it was also used for decorative trims, and parts of jewelry.
you may need to know our prices...
We use beautiful domestic and rare exotic hard woods for all of our lucets, so you are getting a quality tool which will last a lifetime. Prices are based on type of wood...
Please add $3.50 shipping for one Lucet and $1.00 for each additional one.
then there's the book:
The Lucet - History, Techniques, and Uses for the Cord - $10.00
newly revised on June/2005! More pages and more info!!!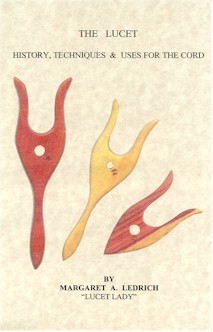 Add $2.00 shipping for the book.

We give Lessons, Seminars and Demonstrations
Can accept Check, or Money Order only at this time,
make Payable to: Margaret Ledrich (only.)
Please E-mail or Call for current price and availability of choice of wood.
Send SASE for price list or click on the lucet below to

Thanks so much for stopping by!!!

John and Margaret Ledrich